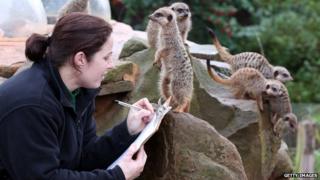 Keepers at zoos across the UK are counting all the animals they have in their care.
It happens every year and zoos do it to make sure their records are up to date.
And with so many weird and wonderful animals to count the process can take a long time - sometimes over three weeks.
Once all the animals have been counted the numbers are shared with other zoos around the world to assist with breeding programmes.
This year, keepers at Chester Zoo really have their work cut out because for the first time they have to include insects in the tally too.
But workers at London zoo are very clever. When they have to count tanks full of small fish they take a picture. That way it's easier than watching them all swim about, trying to remember which ones they've already counted!