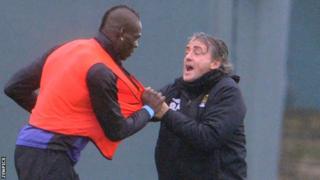 Manchester City boss Roberto Mancini and star striker Mario Balotelli have been photographed having what looks like a big argument
A company that sells photos say they took the snaps on Thursday morning.
It's reported that the two had to be separated by players and staff, but City haven't said if it's true or not.
It's not the first time Mancini and Balotelli have been reported to have fallen out and could mean Balotelli's future at the club is uncertain.