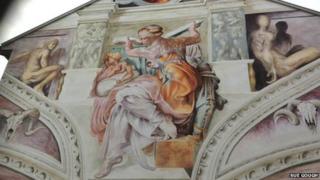 If a shop wants to attract a bit of attention, it could advertise in a newspaper or maybe run some special offers.
But that isn't enough for a coffee shop in Bedford - instead they've painted a giant picture on one of their walls!
The whopping art work is a 'Fresco', a style of painting first used over 3000 years ago.
Frescoes are designed to last a long time and this one could last longer than the building it's painted on!
Kevin Kavanagh, who owns the coffee shop, said: "The building will fall down before it fades."
"Painting on lime with pigment paint gives it longevity, which is why you can see works of art around the world which have lasted for hundreds of years," he said.
The painting is a copy of a Fresco by the famous Italian artist Michelangelo, it took three months to finish and cost about £12,000!