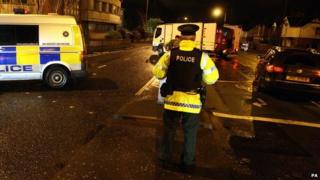 Police in Northern Ireland have said it's really lucky that no one was hurt after a bomb was found under a police car in Belfast.
Army bomb disposal officers were called to deal with the device on Sunday afternoon and carried out a controlled explosion.
Police have blamed dissident republican paramilitaries for planting the bomb. They want Northern Ireland to leave the UK and become part of the Republic of Ireland.
Assistant Chief Constable George Hamilton said: "It is very fortunate that this device was detected before it exploded and that no one was killed or seriously injured."
A number of houses in the area had to be evacuated while Army bomb officers made the device safe.
'Heartache and sorrow'
In recent years, dissident republican paramilitary groups have carried out a number of attacks on police officers in Northern Ireland.
Politicians there have spoken out against this latest attempt to hurt the police:
"Those who placed this potential bomb have nothing to offer the community except heartache and sorrow," said Robin Newton, who represents East Belfast in the Northern Ireland Assembly.
Chris Lyttle, who also serves the area said: "My immediate thoughts and prayers are with the officer and the family directly affected by this cowardly act."
For more information check out our guide to Northern Ireland.