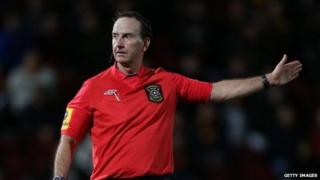 A Sheffield Wednesday player was given two yellow cards but wasn't sent off in a match against Huddersfield Town in the Championship.
Referee Mick Russell is being investigated after he showed midfielder Jeremy Helan a second yellow card in the 0-0 draw but did not produce a red.
Huddersfield boss Simon Grayson described the incident as "staggering".
An organisation which represents referees said Russell "admitted making a genuine error".
Apology
Professional Game Match Officials Limited said it will find out why the mistake happened and decide if the referee should be punished.
Mick Russell said he took down the wrong name for the first booking which was for diving in the penalty area in the 9th minute.
When he showed a yellow to Jeremy Helan for a foul in the 26th minute, Russell didn't realise it should have been his second booking. In the rules of the game, if a player gets two yellow cards they should get a red card and be sent off.
Huddersfield boss Simon Grayson said: "Something quite simple like that shouldn't be happening in Championship football. He's not done it deliberately, but you can't make major mistakes like that."
Grayson said the referee apologised for his error after the match.