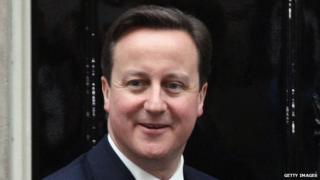 The Prime Minister David Cameron says it has been an "extraordinary year for the country", and he says people can be optimistic about 2013.
In his New Year's message, the PM praised the Olympics and Paralympics and the Diamond Jubilee celebrations.
But he said it had also been a "tough" year for some families because of the country's financial problems.
Mr Cameron said there were "no quick fixes", but that the UK is "heading in the right direction".
'World class education'
The Prime Minister said the government had managed to cut some of the country's debt, get more people a job and improve standards in schools.
Mr Cameron said: "On all the big issues that matter to Britain, we are heading in the right direction and I have the evidence to prove it."
He said that since he became Prime Minister, there are almost half a million more people in work and more than 1,000 new academy schools have opened.
"When there is a fight on our hands to change our schools, we are ready and willing to have it, because having a world-class education is the only way our children are going to get on in this world" he said.
But the Labour Party - who are in opposition - said things aren't as good as David Cameron says.
Michael Dugher, Labour's vice chairman, said: "Cameron promised change but nothing is changing for the better. Britain's economy is failing under his policies over the last year, with nearly one million young people out of work. Prices are still going up faster than wages."
"This prime minister is out of touch, he stands up for the wrong people and he's failing to deliver for working people."