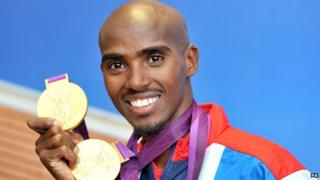 Even though he's famous across the world, Olympic star Mo Farah has revealed he often gets stopped at airport customs in America.
He told a newspaper it's because of his "Somali origin".
Farah was born in Somalia, a country that America is worried about because they think it is a safe place for terrorists.
He decided to talk about the issue after being pulled aside by officials in Portland, Oregon before Christmas.
'I couldn't believe it'
Farah moved to America last year to work with a famous athletics trainer.
He was flying to Oregon to be with his family for Christmas when he was stopped by customs officials and put in detention, which means he was being investigated before being allowed to enter the country.
"I couldn't believe it," he said. "Because of my Somali origin I get detained every time I come through US customs. This time I even got my medals out to show who I am, but they wouldn't have it."
Farah moved to Britain when he was eight years old with his English-born dad.
The long distance runner won both the 5000 and 10,000 metres races at the London 2012 Olympics.
He was awarded a CBE for services to athletics in the 2013 New Year's Honours List.