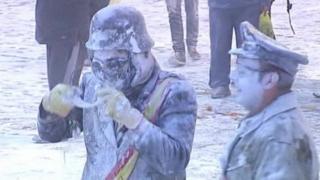 Flour fight video
The town of Ibi is south-east Spain has held its annual flour fight.
People taking part in the Els Enfarinats festival wear military-style costumes and throw flour, eggs and firecrackers around the town.
It takes place all day until sunset as the fancy-dressed participants pretend to take control of the town.
After the fun and games, a big clean up takes place to get rid of all the flour and eggs on the streets!