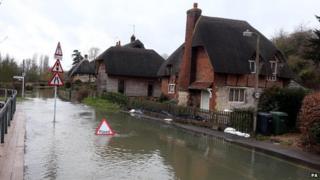 Widespread flood warnings are in place across the UK, with more rain expected over the weekend.
Two bouts of heavy rain in particular are causing concern for areas already badly affected by flooding.
Up to 40mm of rain could fall in parts of England and Wales on Saturday, with fresh downpours moving across the UK on Sunday night and into New Year's Eve.
Forecasters say there is a "good chance" that 2012 will be the wettest year in the UK since records began.
The Met Office has issued a yellow rain warning - meaning "be aware" - for much of Wales and western England on Saturday, Sunday and Monday.
Key areas of concern are Devon, Cornwall and Somerset, where water levels are still high after last week's flood.
A yellow warning for snow in central and northern Scotland has also been issued.
New rainfall record
The worst of the Saturday's rain is expected to hit most areas at around lunchtime before clearing the east coast by about 4pm.
A new record has already been set for England, with 1,095.8mm falling in the year up to Boxing Day.
About 520 properties have flooded since Wednesday, and the Environment Agency issued flood warnings and alerts to 110,000 properties.