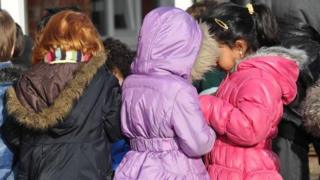 Girls are still being raised to think that having children is more important than achieving your own goals, says a leading headmistress.
Hilary French, president of the Girls' Schools Association, thinks girls should be free to make difference choices if they want to.
She says girls are still expected to look after the home, despite their high achievements at school.
She thinks teachers should try and get girls to see there are other options.
Mrs French said girls at her school in Newcastle were shocked when a businesswoman came to speak and dared to say that she put her work ahead of her son.
The head remarked: "We are still creating a generation of girls who think that the whole idea of looking after children is really the most important thing, once you have a child."
The Girls' School Association represents independent girls' schools in the UK.
What do you think?
Are girls being brought up to think that having kids is more important than following your own dreams?
Perhaps you disagree and think that girls are free to make different choices?
Send us your comments on this issue - whether you're a girl or a boy!
This chat page is now closed. Thanks for your comments.
Your comments
"I think girls should be able to choose what they want to do in life because it is their life and it will affect them in the future."
Aaliyah, High Wycombe, England
"I'm a boy and I understand why some girls think in that way because they want to spend time with their children."
Nivashan, Ilford, England
"I think girls should get a chance to do what they want and boys could try what girls are expected to do."
Katy, Manchester, England