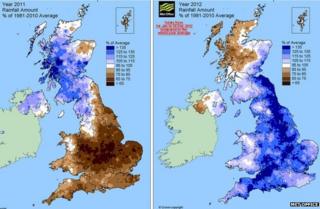 There's been a lot of rain this year, but just how wet has it been?
These two maps from weather forecasters at the Met Office compare rainfall in 2011 with rainfall in 2012 - up to 26 December.
The colours (blue for wet, brown for dry) represent each year's rain, as a percentage of the average amount that fell between 1981-2010.
You can see the right-hand map is much bluer - meaning it's been a much wetter year!
UK's wettest year on record?
It was confirmed on Thursday that 2012 is the wettest year on record for England, with 1,095.8mm falling between 1 January-26 December.
A further 46mm of rain needs to fall by 31 December to make it the wettest year on record for the whole of the UK!
The current wettest year on record for the UK is 2000, with 1337.3 mm.