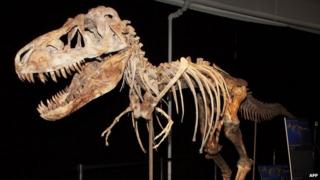 A man who stole a dinosaur skeleton and smuggled it into America has pleaded guilty in a court in New York.
Fossil dealer Eric Prokopi brought the bones of the Tyrannosaurus Bataar into the US illegally and sold it at an auction for £600,000.
US police seized the skeleton from the auction house in June to return it home to Mongolia in central Asia.
The skeleton is about 70 million years old and was discovered in the Gobi Desert in Mongolia seven years ago.
Lorry full of fossils
The Tyrannosaurus Bataar is the Asian cousin of the famous Tyrannosaurus Rex, and has only ever been found in Mongolia.
Laws in Mongolia mean dinosaurs are owned by the government and it's illegal for them to leave to country.
Erik Prokopi was arrested in October when a lorry loaded with fossils arrived at his home in America.
In court he also admitted smuggling a Chinese flying dinosaur, two oviraptors and a duck-billed creature known as a Saurolophus.
Mr Prokopi could be sent to jail for up to 17 years.