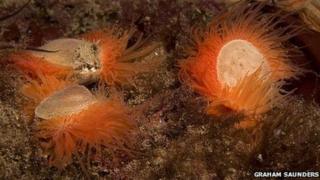 A huge colony of a rare shellfish species has been discovered off the western coast of Scotland.
More than 100 million flame shells were found during a survey of Loch Alsh, a tiny bit of sea in between the Isle of Skye and the Scottish mainland.
Scientists believe it could be the largest group of the brightly coloured species in the world.
The unusual clams have neon orange tentacles which stick out of their shells.
"Dazzling array of tentacles"
The survey was carried out as part of a special conservation project to find new water areas that could be marked for protection - known as Marine Protected areas (MPAs).
The colony has formed a reef five miles long - much larger than expected.
Scotland's Environment Secretary Richard Lochhead said: "The flame shell must be considered among the most remarkable species in our waters, with a dazzling array of orange tentacles.
He added: "This important discovery may be the largest grouping of flame shells anywhere in the world."