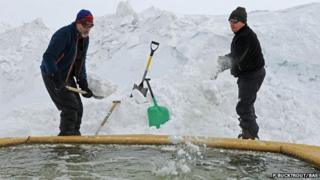 A tough mission to reach an ancient lake sat under 3 km of ice in Antarctica has been called off.
Work began two weeks ago to drill down to Lake Ellsworth, which has been untouched for up to half a million years!
The team were using near-boiling water to pierce the ice sheet, but they had problems connecting the main hole to a second hole designed to release water.
Scientists had hoped to discover if there was any life in the lake.
The decision to stop the mission was made in the early hours of Christmas Day, UK time.
'Critical condition'
Professor Martin Siegert explained: "We got to a critical condition where our calculations showed us we simply didn't have enough fuel to continue any further down into the ice sheet to hit the top of the lake."
He added that it could be "three to four, maybe five years" before the mission is tried again.
The team suffered a setback last week when the main boiler used to heat the drilling water broke down.
They will now pack up their equipment and return to the UK to look at what went wrong.
The £8 million project is being led by the British Antarctic Survey.