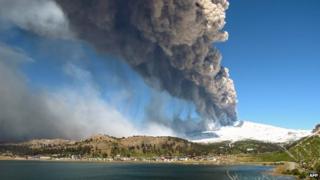 Authorities in Argentina and Chile have issued an alert to all local residents after a volcano erupted last night.
Ash has been falling on nearby villages and many people have already left the area for safety.
Residents that have stayed behind have been told to take extra care and be prepared to evacuate if the situation gets worse.
Flights are not thought to be affected but planes flying across the country have been warned.
Hundreds of flights were cancelled last year due to the eruption of Puyehue volcano, in Chile.
This latest eruption is unlikely to have any effect on air travel in the UK.