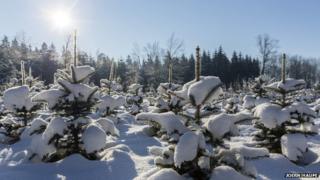 Ever spent hours at the shops with your mum and dad trying to pick a perfectly-shaped tree?
If the answer is yes, then relax because it could be about to get a lot easier - just pick a cloned one!
German scientists are working on a way to make saplings of the popular Nordmann fir grow into a perfect tree.
Thousands of firs are grown on plantations but almost half don't make the shops because they're too short - or the wrong shade of green!
The team behind the project hope to be able to make the perfect clone by 2016.