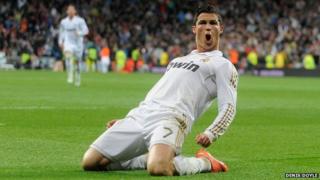 Cristiano Ronaldo says he will not celebrate if he scores against Manchester United.
The Real Madrid striker will go head-to-head with his old club after the Spanish side were drawn against the Reds in the last 16 of the Champions League.
Ronaldo told a Spanish newspaper:
"I won't celebrate if I score. It is thanks to Manchester United that I play for Real Madrid. Without them, I wouldn't be the player I am today."
United face Madrid at the Bernabeu on 13 February and then back at Old Trafford on 5 March.
It will be Ronaldo's first visit to Old Trafford since his £80 million transfer in 2009.