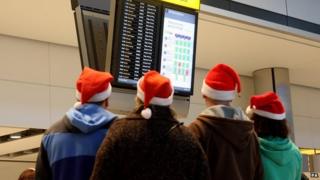 Thousands of people are expected to take to the roads, railways and air for what experts reckon will be the busiest day for Christmas travel.
It's as people across the UK start making their way home for the festive period.
The UK's busiest airport, Heathrow, is getting ready for some 123,000 passengers to fly out.
But there are warnings that bad weather could cause problems for many travellers.
More floods expected
As of Friday morning, there were 90 flood warnings in place across the UK after more heavy rain.
The Environment Agency, who keep an eye on floods, warned that people should look out for the risk of flooding as they travel over the weekend.
A number of train services have been affected with some journeys cancelled altogether in places like Cheshire, Cornwall and parts of Scotland.
A fire in an equipment room near Paddington Station in London has caused more disruption, affecting journeys to and from south Wales and the west of England.
Network Rail says the fire damage was so extensive it has had to rebuild the equipment room from the ground up but hopes to have all lines back open "some time Friday morning".
All this travel disruption may mean many people face a slow start to their Christmas getaway.