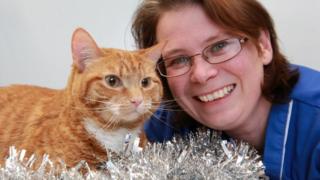 Pet owners are being warned to keep an eye on their Christmas decorations as two cats were rushed to hospital after eating tinsel.
Two-year-old Ginge swallowed up to three feet of tinsel from a Christmas tree and needed life-saving surgery.
Nine-month-old kitten Broxi munched her way through red, white and blue tinsel and also needed emergency treatment.
Animal charity, the PDSA, say pet owners should think before using tinsel around the house.
'Curious cat'
Ginge's owner Joanne MacLeod rushed her pet to one of the PDSA's animal hospitals after the cat started being sick.
"Ginge is a curious cat and likes shiny things. He had been chewing away at the silver thread on my scarf and also around the tinsel on the Christmas tree."
"When he started being sick and his behaviour changed, I knew something was wrong," she said.
Vet Jenny Powell suspected the problem could be tinsel.
"We found Ginge had tinsel running from his tongue through to parts of his intestines," she said.
After a big operation Ginge has now recovered and is "back to his old self".