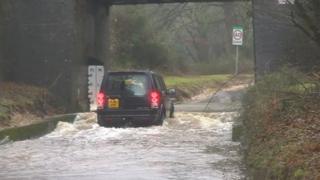 Heavy rain has hit southern and south-west England on Wednesday night, causing problems for people out travelling.
Several people had to be rescued from their cars and some train services have been cancelled.
Cornwall was particularly badly hit, with floods affecting many villages.
Forecasters are expecting more rain, and more than 200 flood alerts and 40 flood warnings have been issued as of Thursday lunchtime.
Flooding could continue until Christmas
More than 100 Cornwall Council staff were out overnight on Wednesday helping people whose homes had been flooded.
David Owens, who's in charge of the rescue work, said: "It's been very busy, not as bad as 24 and 25 November, but still pretty unpleasant.
"Looking at the weather forecast, we are going to be busy up to Christmas.
"The problem is that the water has nowhere to go because the ground is so saturated."
Watch: Leah finds out why so much flooding has been happening in England and Wales this year.