2012 - it's been a massive year for news.
From the ongoing fighting in Syria to Hurricane Sandy sweeping across the Caribbean and America's east coast; from the London 2012 Olympics and Paralympics to the celebrations for the Queen's Diamond Jubilee.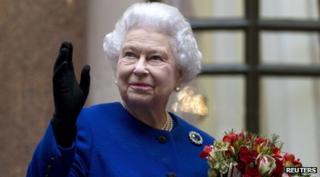 Reuters
Barack Obama was re-elected as American President and it was announced that the Duchess of Cambridge is expecting a baby - who will someday be king or queen.
In showbiz, South Korean star PSY's Gangnam Style became a worldwide hit.
But that's just the tip of the iceberg!
What will you remember?
We want to know which moments of 2012 were most memorable for you? Which stories got you talking at school or with your friends? What have you loved hearing about on Newsround? And which stories do you think will keep being big in the future?
This chat page is now closed, but you can read some of the comments we've had here...
Your comments
"Dogs driving cars. Great!!!"
Willow, USA
"London 2012 because it was amazing and it made me so happy to be British. It was GREAT!!!"
Jess, London, England
"When Felix jumped from space to Earth."
Qudus, London, England
"It has to be the Olympics, the Diamond Jubilee and when James Arthur won The X Factor! Definitely!"
Nida, London, England
"This year I have really loved the new song Gangnam Style. My little brother can't stop dancing to it."
Bethan, Stoke-on-Trent, England
"Wigan FC 1-0 Man United, definitely."
Adam, Lancashire, England
"I have so many best moments of 2012 but my two favourites have to be when Skyfall was released and Adele sang the song, and when One Direction's new album came out."
Charlotte, England
"I will always remember the Queen's Diamond Jubilee. On the day I felt so proud of her and I will never forget that feeling."
Lottie, Norwich, England
"I must say the Olympics and Paralympics. THEY WERE FAB!"
Beth, Bradford, England
"I absolutely loved the Olympics and the Paralympics in London. It makes me proud to be from Britain. I also loved the Queen's Diamond Jubilee, watching it all the way from Hong Kong was a real honour."
Sophie, Hong Kong
"I definitely will remember Bradley Wiggins winning the Tour de France!"
Charlie-Grace, Surrey, England
"My top two were Gangnam Style and the London 2012 Olympics and Paralympics. They were AMAZING!"
Edward, Oxford, England
"I remember the Olympics, it made me proud to be British."
Hamza, Lancashire, England
"I would have to say the Queen's Diamond Jubilee which I will remember forever. It was such a memorable event for everyone."
Jessica, Middlesex, England
"London 2012 was the highlight of my year, it was simply incredible!"
Katie, Cheshire, England
"Well it has to be the US election when Barack Obama won, I was full of joy."
Ilyas, Cairo, Egypt
"This year has been a fantastic season of Formula 1, maybe the best ever."
Midhat, London, England
"My favourite moment in 2012 was when loads of Team GB won gold in the Olympics like Jessica Ennis, Andy Murray and Mo Farah."
Rachel, Birkhill, Scotland
"My favourite was the anniversary of the Titanic because it was very interesting."
Ryan, Aberdeenshire, Scotland
"Everything!"
Elli, Surrey, England
"I will always remember all the terrible floods in England. So many people suffered from it and so many homes were destroyed."
Christina, Inverness, Scotland
"2012 has been an amazing year but the best moment has to be the London Olympic and Paralympic Games!"
George, Macclesfield, England
"I think that the London 2012 Games when Mo Farah won his two gold medals was the news story for me. He was just amazing."
Hannah, Rochdale, England
"My best moment is probably when One Direction released their Take Me Home album."
Emily, Kettering, England
"Definitely Gangnam Style, it's like the biggest music craze ever, even for me!"
Arek, The Hague, The Netherlands