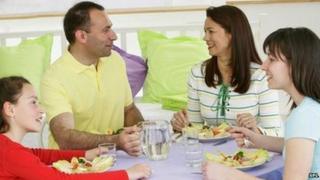 How often do you sit down together as a family for a meal?
As well as being a chance for a good catch up, new research suggests family meals may be making you healthier.
Researchers at the University of Leeds found that eating together - even if it's just once or twice a week - boosts how much fruit and vegetables kids eat.
Fruit and vegetables are packed with vitamins, minerals and fibre which are really important for keeping our bodies healthy.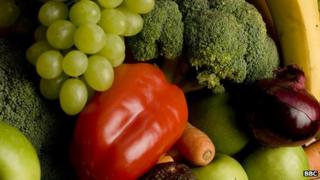 Five portions per day
The researchers studied the eating habits of 2,400 children at 52 primary schools in south London.
They found that those who always ate together managed to have the recommended five portions of fruit and vegetables each day.
Those who only sometimes ate together came close.
Experts reckon that watching your parents and brothers or sisters eat teaches you good habits.
'Healthier choices'
The study found 656 families said they always ate meals together at a table, 768 sometimes did, while 92 families never did so.
Health experts are now calling for more to be done to encourage families to get together at meal times.
Azmina Govindji, of the British Dietetic Association, said: "If children are eating better in childhood, they are more likely to make healthier choices in adult life - and since food directly impacts risks of conditions like heart disease and type 2 diabetes, eating together as a family seems like a small price to pay."