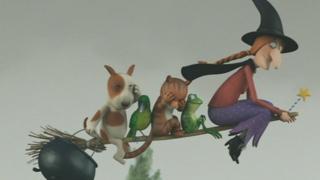 Donaldson talks Room On The Broom
Children's Laureate Julia Donaldson has revealed she prefers the new Room On The Broom film over The Gruffalo and The Gruffalo's Child movies.
Her hit book has been turned into a special half-hour animation for this Christmas.
It's about a kind, scatty witch who invites a surprising collection of animals to join her on her broom.
The author told Newsround: "Although I did love [The Gruffalo and The Gruffalo's Child] - I thought they were really well done - there's a little bit more room to develop the characters in Room On The Broom."
Britain's Got Talent judge David Walliams is one of the celeb names involved - he stars as the voice of the Frog.
Watch our report to see Julia Donaldson talking about the film!
Room On The Broom is broadcast on Christmas Day at 4:35pm on BBC One.