Olympic cycling champion Victoria Pendleton has spoken about the "honour" of having a lion cub named after her.
Two cubs at Knowsley Safari Park, Merseyside, born over the summer, were named after Victoria and GB teammate Jessica Ennis.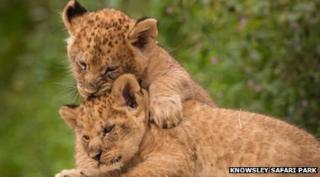 knowsley safari park
Victoria told NR: "It's such an honour that somebody chose my name to name a little tiny lion cub here in the UK.
"When I found out, I was like, 'Is it true? Really?' and I've been wanting to come here and see them ever since.
"I've just got up really close and seen them in real life."
Victoria won gold at London 2012 in the women's Keirin event in the Velodrome.
The Newsround team bumped into the cycling star while out filming for a story about elephant ivory!