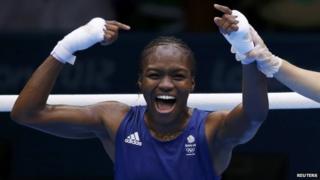 Reuters
Britain's boxers are the biggest winners in the UK Sport funding programme for the next Olympics.
A record £347 million of public money is being given out to help sports stars train and win medals at Rio 2016, and sports are being rewarded for success.
Boxing will get £13.8m - a 44% boost on what the sport received for London 2012 - but swimming is seeing a £4m cut.
There's also bad news for handball, basketball, table tennis and wrestling - they've lost all their support.
Overall, 18 sports have seen their money go up, while five have had their budgets cut.
GB's boxers enjoyed their best Olympic medal haul since 1920. They won three golds, one silver and a bronze.
Taekwondo, gymnastics and equestrian are the other major winners.
The Paralympic section of the funding has gone up by 4%, with swimming, athletics and cycling being rewarded.
'Devastated'
Sports that didn't perform so well at London 2012 have lost out.
GB handball player Chris McDermott tweeted: "I'm devastated. Absolutely gutted. Gave everything for seven years now we've been chopped."
UK Sport is in charge of giving out millions of public money - from the government and the National Lottery - to help the country's top performing sportspeople.
Chief executive Liz Nicholl said: "We want to be the first nation in recent history to be more successful in the Olympics and Paralympics post hosting."