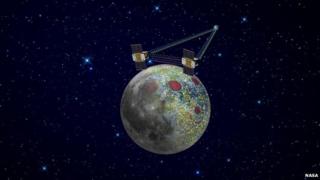 Talk about going out with a bang - two Nasa spacecraft have ending their lunar missions by crashing into the Moon!
The Ebb and Flow probes have been circling the Moon for a year, during which they created the most detailed gravity map of the Moon ever.
The pair hit the lunar surface at 3,760 miles per hour on a mountain near the Moon's north pole.
Nasa's radio-tracking system confirmed the loss of signal from the satellites at around 10.30pm last night.
"It is going to be difficult to say goodbye," said Maria Zuber from the project. "Planetary science has advanced in a major way because of their contributions."
Ebb and Flow performed one final experiment before they said goodbye.
They fired their main engines until their tanks were empty to show how exactly much fuel is left.
It will allow scientists to better plan how much fuel they'll need for future missions.