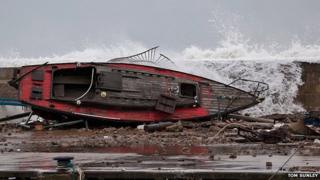 A clean-up operation is taking place in parts of eastern Scotland after a 'perfect storm' hit the coast on Friday.
Strong winds, high tides and huge waves caused severe damage to buildings and property along Scotland's east coast - from Shetland down to North Berwick.
Residents in Stonehaven had to be evacuated, roads were closed and some fishing boats destroyed.
Communities affected described it as the worst storm in living memory.
Sea defences tested to the limit
A 15-metre section of Lossiemouth's harbour wall collapsed, as did sections of Balintore's harbour defence.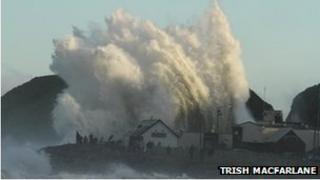 An army of volunteers is now busy cleaning up.
Scotland's Minister for Environment and Climate Change, Paul Wheelhouse said:
"While some coastal buildings and harbour infrastructure in the north east has been damaged, early indications are that we have weathered a hugely challenging storm well."
In Peterhead, a lifeboat crew rescued three people who had become stranded in what were described as horrendous conditions.