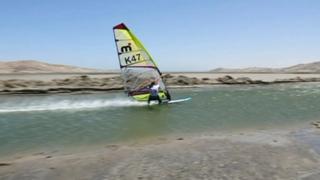 Windsurfer sets new speed record
A British windsurfer has set a new world speed record - in the desert of Namibia in Africa!
Zara Davies - who started windsurfing when she was just 7 - windsurfed a narrow man-made channel of water in her attempt.
The area is well know for high winds, where she reached a top speed of 53mph - travelling faster than a speedboat!
Check out her attempt right here!
More news stories