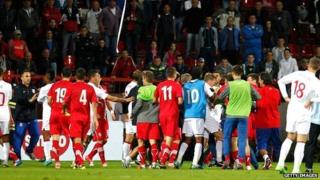 The Football Association say that the punishment handed out to Serbia after England players were racially abused during their Under-21 match in October doesn't do enough to stamp out racism in football.
Four players and two coaches from the Serbian team have been banned and the Serbian FA have been fined £65,000. Fans are also banned from their next match.
The FA says UEFA - the people in charge of European footy - haven't done enough.
FA general secretary Alex Horne said: "We are disappointed with the sanctions levied by Uefa with regards to the racist behaviour displayed towards England's players."
"Let's be clear, racism is unacceptable in any form, and should play no part in football."
Two English players Steven Caulker and Thomas Ince were also banned. England head coach Stuart Pearce says they did nothing wrong.