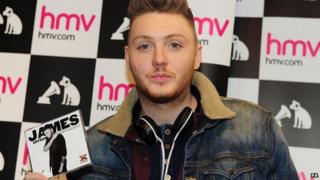 X Factor winner James Arthur has topped the UK singles chart with his debut single.
His winners song, Impossible, has sold 490,000 copies, making it the fastest selling single of the year so far.
It's the best first-week sales for an X Factor winner's single since Alexandra Burke's 2008 hit Hallelujah.
The singer said: "To everyone from home and around Britain who bought the single, thank you very, very much.
"You've made my dreams come true."
"My Number One award is going to go on my mantelpiece and I'll probably kiss it for two weeks solid every time I pass it!"
Two million fewer viewers watched the X Factor final this year - an audience of 11.1 million compared with 13.1 million who watched Little Mix win in 2011.