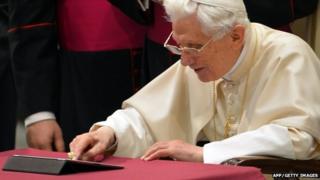 Pope Benedict XVI has tweeted for the first time from his personal Twitter account, @Pontifex!
He pressed a button on an iPad at the Vatican on Wednesday, to send his tweet in eight different languages.
His tweet read: "Dear friends, I am pleased to get in touch with you through Twitter. Thank you for your generous response. I bless all of you from my heart."
The Pope gained nearly one million followers even before his first tweet!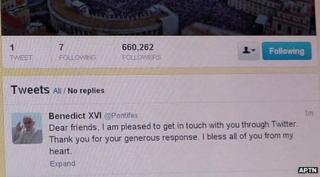 The leader of the Catholic Church has eight twitter accounts in eight different languages - English, German, French, Spanish, Portuguese, Polish, Italian and Arabic.
When it was revealed the Pope would start tweeting earlier this month, a spokesperson said he wanted to "reach out to everyone".
The Pope's Twitter name, Pontifex, means "pontiff" or "builder of bridges".