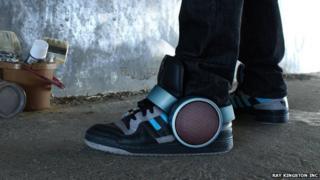 Question for all music lovers out there - would you want to have your favourite tunes blasting out of your FEET?
A New York design studio's come up with an unusual idea - 'Sneaker Speakers' that strap onto your trainers!
It works with Bluetooth-enabled devices such as smartphones and iPads to access your music without any need for wires.
Creator Ray Kingston calls them "a must-have for urban artists and everyone else who believes in the inspirational power of music".
He also says the speakers still provide high quality sound even though they're far from your ears!
There isn't any news on a launch date or prices at the moment.