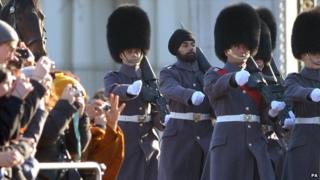 A Sikh guardsman on parade at Buckingham Palace has become the first to wear a turban instead of a bearskin hat.
Jatenderpal Singh Bhullar wears a turban, which is worn by many Sikh men, rather than the famous big bearskin hats traditionally worn by soldiers guarding the Queen's palace.
Jatenderpal said, "Conducting public duties while being a practicing Sikh and wearing my turban is a great honour for me."
Other Sikhs have taken part in guarding the Queen's palace, but they wore traditional bearskin hats rather than turbans.