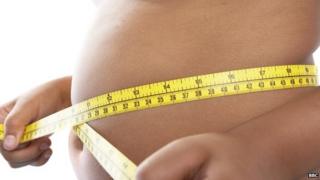 New figures show one in three children in their final year of primary school in England are overweight or obese.
The 2011-12 figures show a slight increase in the number of overweight kids compared with the previous year.
Numbers of overweight kids in the poorest areas were nearly twice as high as in the richest.
Campaigners say more needs to be done to help children who struggle with their weight.
The National Child Measurement Programme has been running for six years. Not all the latest figures show a rise in overweight children.
The number of children aged four and five who were obese or overweight stayed the same at 22.6%. That's just over one in five kids.
Serious damage to health
Tam Fry, of the National Obesity Forum, said the government needed to work harder to make sure kids can get enough exercise and healthy food.
"The government has totally let down a raft of children," he added.
But Public Health Minister Anna Soubry said the government was taking action:
"Being overweight can do serious damage to our health so we must reduce levels in children to give them the best start in life."