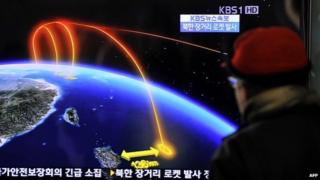 World leaders have strongly criticised North Korea for launching a rocket into space.
Although the North Korean government insists it was a peaceful mission, many countries think North Korea are actually testing long-range missiles which is banned.
America have called it a "highly provocative act".
Japan threatened to shoot down the rocket if it came into the country's air space.
The government in Tokyo, the capital of Japan, put its armed forces on stand by and has called for an emergency meeting of the UN Security Council.
It's because many countries are worried that North Korea, one of the most secretive countries in the world, is working on making big weapons.
You can read Newsround's guide to North Korea to find out more about why people are so concerned about what's going on there.