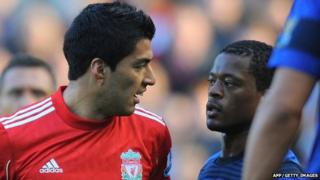 Football bosses have come up with a 93-point plan to tackle racism in the sport.
Ideas include giving foreign players lessons on British culture and making players promise their clubs not to discriminate against people from other races.
The plan come after the Prime Minister, David Cameron, called for action on the issue.
Liverpool's Luis Suarez was banned for eight games for racially abusing Manchester United's Patrice Evra in October 2011.
Suarez admitted using an abusive word but claimed it was not racist as it was a term widely used in his home country of Uruguay.
The Chairman of football's anti-racism campaign, "Kick it Out" has told newspapers that the game lacks "morality" and football authorities haven't done enough to tackle the problem.