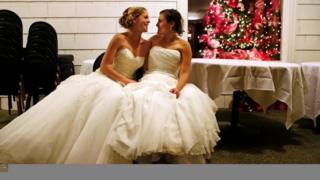 Plans to allow same-sex marriage in England and Wales have been set out by the government on Tuesday.
Some religious organisations can decide to offer weddings for two men or two women, under the proposed law.
But priests in the Church of England and Church in Wales are banned from doing that because the church authorities have said they disagree with the plans.
At the moment, same-sex couples can have a civil partnership, which offers similar legal rights but isn't exactly the same as marriage.
Opposition
The Church of England and Roman Catholic Church are among those who are against same-sex marriage.
Many MPs in the governing Conservative Party, are also thought to oppose the plans.
But the Prime Minister and the other main parties, Labour and the Liberal Democrats, support it.
The plans are set to be introduced by 2015.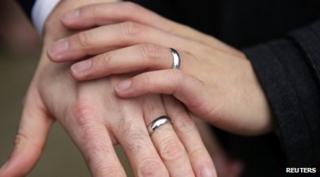 Scotland and Northern Ireland
Scotland's government has already announced plans for a same-sex marriage law, which is likely to happen before 2015.
There are no plans for such a law in Northern Ireland.
Around the world
Across the world, 11 countries currently allow same-sex marriage: Argentina, Belgium, Canada, Denmark, Iceland, the Netherlands, Norway, Portugal, South Africa, Spain and Sweden.
It's also allowed in some parts of the USA and the capital of Mexico, Mexico City.
The US states of Washington, Maine and Maryland voted for same-sex marriage in November. Six other states, and the capital, Washington DC, already allowed it.
But in many more countries, such as Iran and Nigeria, it's illegal for a man to have a relationship with a man or a woman with a woman.