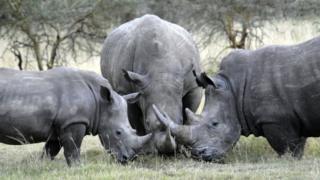 A new deal's been signed between South Africa and Vietnam to help stop rhino poaching.
It's thought there are 25,000 rhinos in Africa with more than four in every five of them in South Africa.
Illegal killing of rhinos there is a big problem with poachers selling rhino horn to countries like Vietnam, where it's used in traditional medicines.
Figures show the number of rhinos killed in South Africa nearly doubled in 2012, to 618.
Conservation groups have welcomed the deal as the first time the two nations have worked together on the issue.
Selling rhino horn has been banned by the Convention on International Trade in Endangered Species (Cites) since 1980.