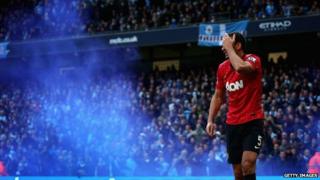 Netting around pitches "might be necessary" to protect players, the Professional Footballers' Association (PFA) has said.
The warning comes after Manchester United's Rio Ferdinand was hit by a coin during Sunday's derby match.
Police are still trying to find out who threw the coin, which made a cut above Ferdinand's left eye.
PFA boss, Gordon Taylor, says it might lead to protective netting being put around pitches.
"I think you've got to consider, as has been suggested, some netting in vulnerable areas," said Taylor.
"It could be behind the goals and round the corner flags."
'Knee-jerk reaction'
However, the chairman of the Football Supporters' Federation, Malcolm Clarke, believes introducing netting is not the answer.
"Netting is not something we feel is necessary to have," he said.
He added that fewer people were arrested last season for throwing objects at footballers than in previous seasons.
"It is undoubtedly improving and before we start making knee-jerk reactions to particular incidents we ought to bear that in mind."
The Football Association has opened an investigation into what happened and the incident's been condemned by Manchester City.