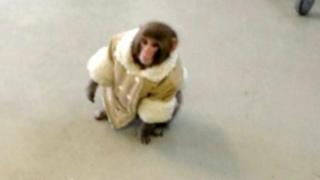 A monkey found on the loose in a furniture store car park in Canada has been sent to an animal sanctuary.
Darwin, a five-month-old macaque made headlines around the world after shoppers in Toronto saw him wearing a sheepskin coat and a nappy.
Reports say he escaped from a crate in his owner's car.
Darwin's owners have now been fined C$240 (£151) for owning an animal they weren't supposed to.
Bronwyn Page was shopping at the time. She said: "This is so bizarre, I never expected to see this."
"All the people were trying to call it towards them," she added, "but it was very scared, it was darting all over the place."