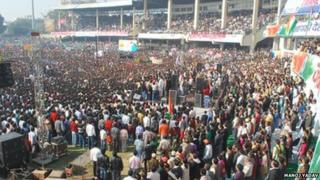 More than 100,000 people have gathered together in India to sing the national anthem in an attempt to break a world record.
Representatives from Guinness World Records were standing by as people gathered at a stadium in Kanpur to sing.
They were trying to beat a record set in October in Pakistan, when 44,200 people belted out their anthem.
Each participant had to wear a wrist band so they could be counted.
Rajesh Chandra, one of the people who took part, said: "It was a proud moment for me to participate... and set a world record".