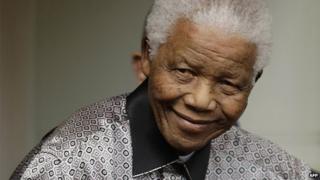 Former South African President Nelson Mandela is said to be "doing well" after spending a second night in hospital in Pretoria.
A spokesperson said Mr Mandela, who's 94-years-old, was "comfortable" and there was "no cause for alarm".
Nelson Mandela is one of the most famous men in the world and a hero to many.
News that he had been taken to hospital has made many people worried in South Africa and across the world.
On Sunday Mr Mandela was visited by the country's current President, Jacob Zuma, who said he was looking well after a restful night.
Who is Nelson Mandela?
Mr Mandela was elected president of South Africa in the country's first democratic elections.
He spent a lot of his life in prison after protesting against the way South Africa was ruled, a system called 'apartheid' which kept white and black people apart.
It meant that black people in South Africa had fewer rights and couldn't vote. White people controlled what jobs black people could have and even where they lived.
Mandela is now seen across the world as being responsible for helping to end apartheid.