Politicians in Northern Ireland have called for calm after this week's violence over the Belfast union flag vote.
Councillors decided to stop flying the flag of the UK every day but instead only on special occasions.
US Secretary of State Hillary Clinton, who looks after America's relations with other countries, is visiting the city. Her husband, Bill Clinton, played a big part in the 1998 peace deal, the Good Friday Agreement, when he was US president.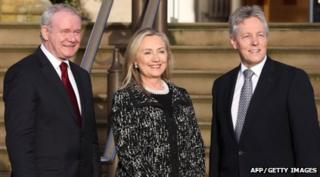 AFP/getty images
She's spoken out against the clashes, saying: "Violence is never an acceptable response. But Secretary Clinton is confident the Northern Ireland peace process will work.
Check out our guide on the the history of Northern Ireland.