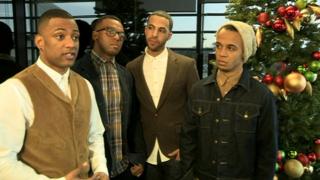 JLS' mission to help beat cancer
Top boyband JLS have unveiled a new mission to help beat cancer.
They've teamed up with Cancer Research UK to re-launch the JLS Foundation, which was first set up in 2010 to help charities.
The guys are raising money through a prize draw, where winners get to hang out with them, and putting healthy living advice online.
Marvin told Newsround: "We make no secret of the fact that we've always wanted to give back and help others where we can, and use our voices and the fact we're JLS to raise and create awareness."
JB added: "The way we look at it is that no matter how much or how little you've done, or how old or how young you are, you can always give something back.
"What we wanna try and do is spread the word as much as possible, donate our time, our money as well, to get as many people involved as possible."