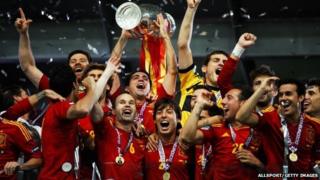 The Euro 2020 finals will take place across Europe, instead of having one or two host countries.
European footie bosses Uefa made the decision on Thursday in Switzerland.
It's not clear which cities will be involved, but the Football Association has already put forward Wembley in London as a venue for the final.
The idea of 'A Euro for Europe' has come from Uefa president Michel Platini, who thinks it'll help spread the costs of hosting the tournament.
But there is some worry that it'll mean fans having to travel long distances to see teams play.
Euro 2020 will mark the 60th anniversary of the tournament, which takes place every four years.
France will host the next championship in 2016.