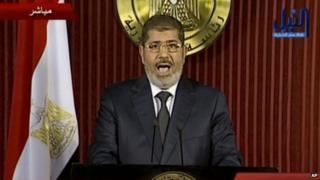 US President Barack Obama has called Egyptian President Mohammed Morsi to show his "deep concern" over the recent violent protests there.
Many people in Egypt don't agree with President Morsi's plan to give himself more power.
Clashes in the capital Cairo have left at least six people dead and hundreds injured.
President Morsi has called for talks with opposition leaders over the situation.
The Muslim Brotherhood, which backs President Morsi, said its Cairo offices had been set on fire on Thursday.
Police also fired tear gas to break up hundreds of protesters gathered outside the president's house in his hometown of Zagazig, north of Cairo.
Mr Morsi became president after winning Egypt's first ever free election in June.