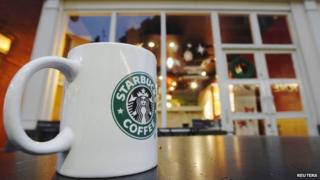 Starbucks has promised to pay more tax in the next two years, following criticism over how little it pays.
Many people were outraged when it was revealed the coffee chain had paid just £8.6 million of UK corporation tax in 14 years - and nothing in the past three years.
So the company's announced it'll pay extra tax in 2013 and 2014, which could total up to £20 million.
Amazon and Google have also been caught up in in the tax payments row.
Everyone has to pay tax, to keep things like hospitals and schools working. It's usually taken from your wages and what you pay depends on what you earn.
It's the same for shops and businesses in the UK who have to pay corporation tax based on the money they make.
Starbucks hasn't done anything illegal.
Some companies can get away with paying less UK tax by basing their headquarters in other countries where the tax rate is lower.