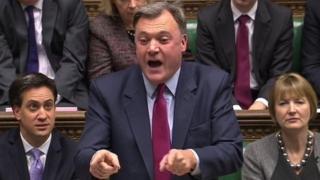 Politician hit by stammer problem
A major politician criticised for making stumbles during a big speech has said he was affected by his stammer.
Ed Balls, the Shadow Chancellor, seemed unsure and confused when he was responding to the government's latest tax and spending plans - the Autumn Statement - on Wednesday.
Politicians on the government's side shouted and laughed at him.
But he's been defending himself, saying the hesitation was down to his stammer and he had nothing to be sorry about.
Mr Balls said: "Sometimes my stammer gets the better of me in the first minute or two, when I speak, especially when I have the Prime Minister and the Chancellor and 300 Conservative MPs yelling at me."
Debate in the House of Commons often gets very heated, with rival political parties jeering or booing each other when they disagree, and other MPs have said their comments had nothing to do with the way Mr Balls was speaking.