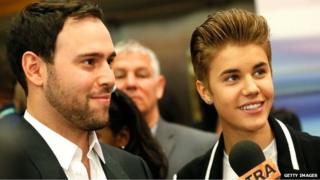 Justin Bieber's manager has criticised the Grammys after the pop star got no nominations for next year's awards.
Scooter Braun wrote about his disappointment on the Twitter website, saying that the Awards' bosses "blew it on this one".
He told his two million Twitter followers: "I just plain DISAGREE. The kid deserved it."
18-year-old Bieber recently won three prizes, including artist of the year, at the American Music Awards.
His third album, Believe, was released in June, and sold 374,000 copies in its first week on sale in the US.
Braun added: "The kid delivered. Huge successful album, sold out tour, and won people over."
Who's been nominated?
The Grammys are America's top music prizes.
The nominations are decided by committees of music industry people.
One Direction, who've also had huge worldwide success this year, were left off the list too.
But British band Mumford & Sons are among the favourites, with six nominations, alongside artists like Adele, Carly Rae Jepson, Taylor Swift and Ed Sheeran.