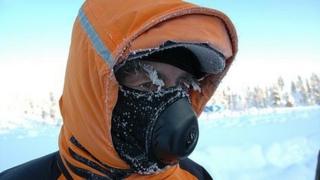 A team of explorers is setting off on an epic expedition to walk across Antarctica during its winter.
They'll be faced with constant darkness and average temperatures of -70ºC, so it's no wonder no one has ever done it before!
Super explorer Sir Ranulph Fiennes is leading the The Coldest Journey expedition.
The expedition ship leaves London on Thursday afternoon and should reach Antarctica in just over a month.
There are loads of supplies on board, including 165 rolls of toilet paper, 4,400 packets of soup and 230kg of chocolate!
Sir Ranulph Fiennes has been called "the greatest living explorer". He was the first person to reach both the North and South Poles, and the first to cross the Antarctic and Arctic Oceans. He's also climbed Mount Everest.
Where would you explore?
We want to know where in the world you'd like to explore - and why.
Perhaps you'd like to join Sir Ranulph Fiennes on his shivery trip, or maybe you fancy exploring somewhere much warmer?
Is there a foreign country or place you've always wanted to see, or are you fascinated by what's lurking in the oceans?
Wherever you'd like to go, let us know!
This chat page is now closed, but you can read some of the comments below.
Your comments
"I would explore Mount Etna, I think it would be really cool to climb up an active volcano!"
Ishbel, Dundee, Scotland
"I would like to explore the human body because it is an amazing place of natural technology."
Subhan, Worcester, England
"I would explore my bedroom, who knows what's hidden under all that stuff!"
Meggie, Chavannes-des-Bois, Switzerland
"I'd go to North America, because I really want to see wild wolves - they're my favourite animals!"
Milly, Somerset, England
"I'd like to explore somewhere with tribes and learn about their ways and maybe learn some of their musical instruments or languages."
Rayne, Bucks, England
"I would like to explore under the sea because I would like to see all sorts of creatures and to see if mermaids really exist."
Ella, Essex, England
"I would go to the Galapagos Islands because there are lots of amazing species of animals there."
Zayd, London, England
"I would like to explore Pluto because no one has explored it yet!"
Ali, Brighton, England
"I'd like to go to the Milky Way and paint a picture of it."
Jazmin, Norfolk, England
"I would explore the Amazon rainforest because there is a chance I could find a new species and be famous across the world."
Reece, Sheffield, England
"I would love to explore Brazil so I could explore the Amazon rainforest and meet all of the animals."
Daniel, Newbury, England
"I would like to go up into space and explore new planets, or planets that haven't even been found."
Amanda, Devon, England
"I would go and travel to the stars because they are so pretty and no one has done it before."
Emma, Reading, England
"I want to go to a desert in Saudi Arabia because it sounds really hot. I have heard about the sand dunes and would like to see them for myself."
Henry, Gloucestershire, England
"I would like to explore Spain because I haven't seen a lot of it before. I want to see the hot beaches and feel the hot sun and learn some more Spanish."
Leon, Gloucestershire, England
"I'd explore the Kalahari desert."
Balram, London, England